Welcome to Craftin Desert Diva's Holly Jolly Christmas Blog Hop!!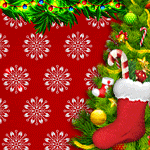 I'm so happy that you could join us today!
If this is the first time that you have hopped with us, you won't be disappointed.
This is the Craftin Desert Divas design team's first hop and I have to say my design team
are all amazingly talented.
This is Day 2 of the Holly Jolly Christmas Blog Hop! You will not only get some inspiration, but you could win GREAT prizes, too!! You must FOLLOW and COMMENT on all of the stops both days to have chance to win.
Here's the wonderful sponsors for this hop...
For this two day hop each blog will be offering a prize from one of the sponsors listed above!!! You must visit each stop both days to be eligible to win. Winners will be announced on Dec 18.
The entire winning list will be posted on Craftin Desert Diva's website.
My sponsor for today is..
Trendy Twine!!!
Prize: $10 G.C.
A HUGE Thank you to our Sponsor!!!
Here is my project that I've created for Day 2....
So for today I have my Beautiful boxes from the "Holly Days" Kit!!!
They are decorated with my favorite Trendy Twine holiday colors!
Todays' sponsor of course....
ENJOY!
Holly Box
I used the
Holly
twine (perfect colors) around the squares
and made a bow.
I added tiny rhinestones on my holly.
This is the top of my Beautiful Holly box. It was my 1st time making a paper bow!!
Added rhinestones on each corner as well
as the corner of my Gorgeous bow.....
What do you think?
Luminary Tree Box
Here is the side of my tree bow, which I adhered gold rhinestone in each corner.
I used
Candy Cane
Twine and a button fro the center of my bow.
Your next stop on this hop is the AMAZING,
Kathy
Jo
Thank you for hopping with us!!!!
Here's a complete list of the line up in case you get lost along the way:
K&Company Visions of Christmas Designer Paper
Cardstock*Ribbon(Glitter)*Rhinestones*3-D Pop Dots*Rosette*Button
Thank you for stopping by!